PENDING PROJECTS AS OF 2002:
A. Family Literacy Center & Community Library: To be constructed in 2003. Funded by the British Embassy.
B. Livelihood Program: To build cooperatives for farmers. Legwork and research started January 2002. Program operations start as soon as funding and partnerships are in place.
2. SITIO ABEL, TALAKAG, BUKIDNON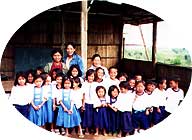 Located in Central Mindanao, Sitio Abel is 40 minutes by foot from Miarayon. There are approximately 1,000 families in this area of Tala-andig origin. Amenities and crops are the same as Miarayon.

Cartwheel is currently running 2 programs here:

A. PRE-SCHOOL OPERATIONS:Started in June 2001. Beneficiaries number up to 70 students. Funding is from individual sponsors
B. FEEDING PROGRAM: Started in June 2002. Beneficiaries number up to 150+ malnourished children. Funding from San Jose Foundation and PCSO.
C. ADULT LITERACY PROGRAM: Started in June 2002 for the parents of pre-schoolers, and other adults with no literacy skills. Beneficiaries will number up to 150 adults in 2 years. Funding is from the Ford Foundation.

3. CARTWHEEL HOUSE, MALAYBALAY, BUKIDNON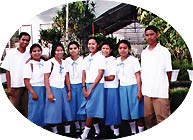 The Cartwheel House shelters and provides formation for scholars attending high school and college in Malaybalay City, Bukidnon. They live with the Mindanao Project Officer, who is both counselor to the the scholars and coordinator of all Mindanao-based projects. This is also used as the Cartwheel Mindanao Office.




4. CARTWHEEL OFFICE, MANILA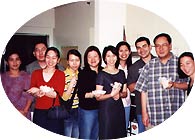 This is Cartwheel's office and support base for all operations in both Manila and Mindanao.

A. FIRST FRIDAY MASSES- Every first Friday at 6:30pm, Cartwheel holds Holy Mass at the office.
B. THURSDAY NIGHT COFFEE CLUB - Every other Thursday, Cartwheel friends and supporters hold get-togethers for brainstorming, networking, and fundraising.
C. FUNDRAISING ACTIVITIES - These are the products of the brainstorming sessions on Thursday Coffee Nights.
D. BI-ANNUAL PILGRIMAGES - Bi-annual visits/immersions to the project areas in Mindanao are scheduled every March and October. Members are invited to participate in a 5-day visit to the Tala-Andig communities.
E. HEART-TO-ART - A creative prayer mission-visioning weekend workshop for young professionals scheduled monthly.