EDUCATION TEAM
Gina Alfonso
0917-8924011
ginalfonso@yahoo.com
FEEDING & MEDICAL TEAM
Dr. Francis Dimalanta
0917-8910417
ddimalanta@yahoo.com
PILGRIMAGE &
IMMERSION TEAM
Nilda Dionisio
0919-2614116
nilda.dionisio@tfn.com.ph
EVENTS TEAM
Suzanne Alvarez
0917-8906142
cartwheelinc@pacific.net.ph
LIVELIHOOD TEAM
Cecile Tan
0917-5240697
cil2216@yahoo.com
SCHOLARSHIP TEAM
Jalu Go
0917-8133491
jalu@info.com.ph
MEDIA & PUBLICITY TEAM
Gay Domingo
6337442
cartwheelinc@pacific.net.ph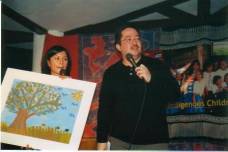 Chingay Andrada & Francis Dimalanta host the dinner.

"A Dinner of Hope for the Indigenous Children of Miarayon" was held on September 8, 2002 at the KATIPS Bar and Grillery in Quezon City. Cartwheel members and friends modeled MOSSIMO clothes, and Dr. Francis Dimalanta and DJ Chingay Andrada hosted the program. Photos by Fr. Kit Bautista, S.J. and paintings by Gina Alfonso were also exhibited on that day.
___Cartwheel is grateful for its sponsors: Gay Domingo, Café a Go-Go, Flowers by Sylvia, Sally Manansala of Shinzen Consultancy and Management Services, Lemonada Fiorgelato, KODAK Express (Emerald Avenue), Orient Day SPA, Starbucks, Ari Trofeo, WELLA Phils., Emphasis Salon.

DECEMBER GET-TOGETHER
Let's get together on December 13, 2002 for a thanksgiving mass and for recognition of the time and efforts our volunteers have contributed through the year. Everyone is invited to the event. Details on the venue and time will follow.

PROJECT "CARTWHEEL IN A CAN"
Cartwheel is distributing cans to schools, business establishments, etc. in order to raise funds for its operations in the coming year. Volunteers may pick up the cans from Cartwheel Center or call 6337442 for delivery. They may also refer us to friends who are prospective volunteers, donors, or sponsors. Cash donations will go to our scholars' tuition, teacher training, teaching materials, school/office supplies, furniture, fund to build a more permanent pre-school structure in Sitio Abel, Miarayon. Cartwheel is accredited by Philippine Council for NGO Accreditation or PCNC; hence, your donations are tax deductible.


SPECIAL ANNOUNCEMENT: KODAK EXPRESS DISCOUNTS
Cartwheel Members may avail of 10% discounts on photo developing and printing/reprints and 5% on cameras, film, and batteries at Kodak Express on Emerald Avenue and on 6/F Kalayaan Bldg. outlets. Please present any ID to avail of the discounts. This offer is valid until December 31, 2002.


OUTREACH MINDANAO

Please call 633 7442 or Gina A. Alfonso at 0917 8924011 for more details on the following:


Sitio Abel Pre-School. Cartwheel is currently looking for sponsors who would be interested in the printing of the pupils' uniform t-shirts.
Sta. Teresita Pre-School Playground. How would you like to lend a hand in the construction of a playground for Sta. Teresita Pre-school in Miarayon? Project "Let's Build a Playground," scheduled in the summer of 2003, will allow you to meet the Tala-andig tribe of Miarayon. You may also want to donate anything that would be of use for the playground such as construction materials, used swings or seesaw, etc.
Summer Football Clinic. We're also planning a Summer Football Clinic with the children of Miarayon and Sitio Abel. Anyone interested in joining this activity in April 2003 is welcome to assist us with planning, logistics, teaching, etc.
Feeding Program and Medical Mission. Cartwheel welcomes your food and medicine donations for Miarayon. Volunteers are also invited to the next medical mission in March 2003.
Community Library. Wanting to get rid of your old books, magazines and other reading materials? Let Cartwheel collect these from your homes and send them to Miarayon's Community Library which benefits not only the children but also the adults in the area. The Library supports Cartwheel's Adult Literacy Program which is funded by Ford Foundation. Mark Brazil, a former Jesuit volunteer, recently joined Cartwheel Malaybalay and now heads the program. To Mark, welcome to the Cartwheel family!
Fundraising Efforts of Cartwheel Scholars. Our high school and college scholars in Malaybalay are coming up with native accessories such as necklaces and bracelets to raise funds for their food allowance. (Their scholarship covers only their tuition, uniform and books.) Cartwheel is also selling Christmas cards as part of its fund-raising activities. The artworks of the children of Miarayon will be featured in these cards. Details on this will follow in a separate announcement.
A Pilgrimage to Miarayon. Cartwheel members and friends were in Miarayon from September 30 to October 5. Their 6-day itinerary includes an eco-adventure, fiesta celebration with the Tala-andig tribe, among others. They also had a livelihood meeting headed by Fr. Kit Bautista and Ms. Ben Albarece. It was a great success and will hopefully yield benefits to the farmers of Miarayon.

THANKS TO OUR DONORS AND SPONSORS:
Abitare Internazionale, Inc., B.G. Alejandro, Ms. Ixie Alejo, Mr. & Mrs. Felipe Alfonso, Mr. Randle Amoranto, Ms. Charito Ampil, Anfil Inc. (Jolibee & Greenwich – Muntinlupa), Ms. Che Anzures, Ms. Melissa Bacani, Prof. Benjie Bagadion, Ms. Carrie Bautista, Mrs. Filomena Bautista, Ms. Menchu Bautista, Fr. Kit Bautista, S.J., Ms. Pauline Bautista, Ms. Angeline Benavides, Mr. Teodoro Bonifacio, Ms. Milagros Camus, Mr. Jigs Carlos, Mrs. Mely Castillo, Mr. & Mrs. Ruperto Clemente, Ms. Rina Cordero, Mr. Jose Edgardo Cruz, Mrs. Ma. Lourdes Cruz, (Maika, Nicole & Julia Cruz), Mr. & Mrs. Jose Cuisia, Ms. Pilar David, Mr. Paul Daza, Ms. Iluminada de Guzman, Ms. Margarita de Guzman, Dr. Francis Dimalanta, Ms. Nilda Dionisio, Mr. Aaron Domingo, Dr. Ayedee Ace Domingo, Ms. Audie Dy, Ms. Menen Dychiao, MJP Espiritu, Ms. Chit Feria, Mrs. Osang Borja Fernandez, Foundation of Our Lady of Peace Mission, Inc., GMA News Media Inc., Ms. Patricia Gonzales, Mr. & Mrs. Clemente Garucho, Ms. Jalu Go, Ms. Maricel Gomez, Ms. Felicitas Gonzales, Mrs. Patsy Henson, Ms. Isorem, Mr. Joselito Jara, Ms. Ma. Cristina Javellana, Ms. Olie Jose, Mr. Emoy Gorgonia, Mr. Bobet Hollero, Ms. Tet Kabigting, Mrs. Josie Larena, LD Core, Ms. Anna Litton, Ms. Johanne Lazo, Ms. Lita Lilles, Ms. Naty Lindo, Ms. Linda Lopez, Mr. Ted Lopez, Mrs. Baby Mangilit, Mrs. Tess Mangilit, Ms. Gina Manhit, Ms. Cecile Mauricio, Ms. Tina Mendoza, Mr. Teodoro Montecillo, Ms. Junie Navarro, Ms. Millette Ocampo, Mr. Rommel Panganiban, Mr. & Mrs. Luis Papa, Mr. Ricardo Pascua, Polymer Products, Phil. Inc., Mr. & Mrs. Orlando Quijano, Ms. Grace Ramoy, Ms. Elizabeth Reyes, Ms. Ma. Cristina Ricafort, Ms. Menchita Romulo, RVL Phils., Mr. Sony Sabino, Ms. Salazar, Ms. Chona Santos, Ms. Maribeth Santos, Ms. Tisa Santos, Ms. Irene Co See, Ms. Cecile Tan, Ms. Filaine Tan, Sacro Costato Sisters, Amanda & Sandro Tengco, Trinity Manpower Services, Tyco Integrated System, Wella Phils., Ms. Tessie Yam, Ms. Carmen Yulo, Ms. Taning Yuson, Ms. Monet Zalameea, Ms. Nita Muñoz, Ms. Pat Lontok.

Cartwheel would also like to thank those who participated in its auction and painting/photo exhibit: Mrs. Ma. Lourdes Cruz, Mr. Joe Jay Doctora, Mr. Miguel Alfonso, Ms. Sherry Zimmer, Ms. Nilda Dionisio, Ms. Belen Lorenzo, Prof. Benjie Bagadion.

JOB OPENING
Cartwheel is currently looking for volunteers who are willing to contribute their time and expertise as consultants for Human Resource and I.T. A per project position for an I.T./Graphic Design professional is also open. Please call 6337442 for more details or send your Resume to our Manila office.



YOU'RE INVITED… to be a Cartwheel member!
Call 6337442 or check out our new website at its temporary address: http://cartwheelinc.tripod.com.