Unit 213 Valle Verde Terraces, Meralco Ave. cor. Gen.Segundo st., 1600 Pasig City, Philippines
Telefax: (0632) 633.7442. Email: cartwheelinc@pacific.net.ph

cartwheelinc@yahoo.com
SUPPORT PROGRAMS
1. FARMER'S COOPERATIVE
BACKGROUND
Since we believe in the sustainability of the community, one of our pending project is the formation of the Farmer's Cooperative. The major source of livelihood is farming. The native farmers produce crops such as corn, coffee, carrots, cabbage, lettuce and potatoes. At present, under the auspices of the Department of Agriculture, several hectares of land have been developed through experimentation of potato farming of different varieties.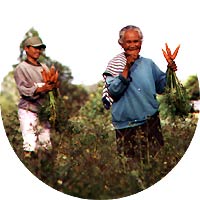 But because of lack of financing and technology in agricultural farming including the onslaught of pests and harsh weather, most of the farmers have harvested little of what they sowed over the past years. Most of them, due to poverty, are forced to sell their crops at a very low price locally to middlemen who could afford to ply their trade in Basak, Malaybalay, and even in Cagayan de Oro. Unfortunately, these buyers dictate the prices of the commodities and most farmers could not afford to sell their goods outside the region because of "kargadors" charge them as high as P1.50 per kilo.
ACTION
What we need at present is:
+ partnership and support
+ volunteers
+ materials
+ typewriter
+ office supplies, etc.


2. THE CARTWHEEL CREATIVE CENTER
BACKGROUND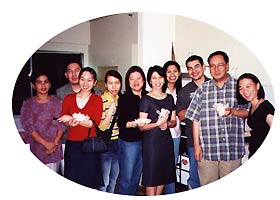 The Creative Center is located at Unit 213 Valle Verde Terraces, Meralco Avenue, Pasig City. This serves as the Cartwheel office and support base for all operations both in Manila and Mindanao. This also serves as a venue for young professionals, men and women alike, to engage in activities called "sabbaticals" that help nurture themselves and discover how they can help nurture others. They are welcome to use the prayer room and the library, or to watch inspiring films with their friends.

We try our best to match resources and needs and to enlarge our resource base on talent, time and money in order to reach more children in need.


HISTORY
The Center opened in December 2000. It has organized sabbaticals for Cartwheel friends and supporters on topics such as the Enneagram, Learning to Love Yourself, Valentines for Singles, What is the Color of Your Aura, Cartwheel Run for Health, and Visita Iglesia. The most regular activities are the Every Thursday Coffee Night, where brainstorming is done for fundraising activities, and First Friday Mass.

ACTION
The Center needs friends who are interested in:
+ organizing or facilitating sabbaticals
+ recommending resource persons
+ donating food or materials for sabbaticals
+ sharing materials for the library and the cinema
Please see our newsletter "Cartwheel Colors" for information on upcoming activities.