OUTREACH MINDANAO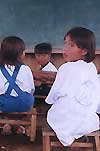 A student at Sitio Abel's makeshift structure
Christmas in a Can Project A Success!
Christmas in a Can Project Barya Mo, Kinabukasan Ko was made possible by Cartwheel friends Cecile Tan, Nelson Yuvilla of The Club Café, and Mr. Henry Camungao of Premiere City Club. Now the fund for the building of the Sitio Abel pre-school has more than twenty-six thousand pesos (PhP 26,000.00).

Thank you to those who supported Project Barya Mo, Kinabukasan Ko:
UAP (United Architect of the Phils. Metro Chapter), Alfredo Sioco, Ho Tan, Chinky Uy, Arthur Uy, John See, Susie Choi, Cheryl Sioco & Michael Sy, Louie C. & Rey, Richard Tan, Valle Verde, Trinna Pua, Jiji Reyes, Thessa Pua, Dindo & Malu Pineda, Alvin Co, Edison Lee, Ricky Davao , Marga Tan, Papah, Elaine Lao,Scott Syling, Glenda, Gil Tan, Anthony Ting, Wilfredo So, Riley Yao, Dannica, Marvic & Michelle Zalamea, Fran Yuyucheng, Eugene Co, Jeje Mercado Jeremy Lim, Tom & Carol Leang Carole Uy, Mars Chua, Ron Yu, Sammy Ser, Rudolf Yaptinchay, Henry Lim, Ryan Ty, Max Uy, Bryan, Jopin, Paolo & Paolo S., Betsu Torres.
Donations can be also be made through our account CARTWHEEL FOUNDATION, INC., Acct. No. 3991-0019-12, BPI Ortigas-San Miguel, Pasig. Please send us the details of your deposit so that we could acknowledge your contribution. You may also call 633.7442 for pick-up of your donation. You and your friends can help build Sitio Abel pre-school in any way you can and from wherever you may be. You may also want to support any of the following Cartwheel Programs: Scholarship, Feeding program (in Sitio Abel), Adult Literacy, Livelihood programs. We would love to hear from you.

PILGRIMAGE TIME
It's graduation time again! March 23 is another chance for Cartwheel and friends to trek to Miarayon for the graduation of the pupils at Sta.Teresita Pre-School (29 candidates from Miarayon proper and 25 from Sitio Abel), and of five high school scholars in Malaybalay: Grace Danio, Luell Danio, Maricel Deconlay, Delia Enecito and Geneth Layocan. Witness Delia and Geneth receive school medals, and Grace receive her honors certificate for 4th grading!
___CFI's pilgrimage to Miarayon is from March 22 to March 26, 2002 with the assistance of Cebu Pacific. Thanks to Mr.Lance Gogongwei and Atty. Racquel Dimalanta.
___ The itinerary includes Cagayan De Oro, the City of Golden Friendship; Cartwheel Creative Center in Impalambong, Malaybalay; the Monastery of Transfiguration in Malaybalay; and Palm Sunday Mass in Miarayon.
Cartwheel Malaybalay Is Your Home.
Donations for Cartwheel Malaybalay center and home will help complete "your home" during your visits there. Tables & chairs, emergency lamps, air pot, cleaning materials, gardening tools, computers and printers, a computer modem, office supplies, and the like will be very much appreciated by our scholars.
___You may also want to join the scholars in their regular activities such as prayer meetings, recollections, and community service. Welcome to Cartwheel Malaybalay.
CONGRATS TO THE TEACHERS
Congratulations to the teachers of Sta. Teresita Pre-School who completed the seminar-workshop on January 18-20, 2002 at The Children's Progressive School, Rosevale School, and Covadonga Center for Culture and Spirituality. Their training included teaching-learning cycle, teaching-learning strategies for children, children in the context of their families and culture, and multiple intelligences. Cartwheel is grateful for Ms. Teresa Taveros and Ms. Ingrid Daba of Xavier University.
THANK YOU TO
Centro Escolar University Dean Carmina Catapang and her faculty for donating one computer plus house ware, blanket, milk and calendars.
Fr. Jose Magadia, S.J. of Loyola House of Studies to for donating two computers.
Mr.& Mrs. Gabby/Edna Mallillin for donating pre-school and inspirational books.
Ms. Susan Gan for donating children's shoes and t-shirts.
Please call Rojean Edith Caharian of CFI Malaybalay at 0919 3741796 or 088 8134909 or CFI Manila at 6337442 for pick up of your donation.
HELP ST. THERESE HIGH SCHOOL
St. Therese High School of Miarayon is raising funds for a color TV (to be run by solar panels) and a laboratory. It also welcomes laboratory equipment and other materials.
___ Please call Rojean Edith Caharian of CFI Malaybalay at 0919 3741796 or CFI Manila at 6337442 for more details.


THANKS TO OUR DONORS AND SPONSORS:
Arts & Craft Club, Foundation of Our Lady of Peace Mission. The Learning Child School Parents Association of Alabang. Jenny Abella, Peggy Ang, Christine Aurelio, Melissa Bacani, Benjamin Bautista, Carmelo Bautista, Dr. Jose Bautista III, Edith Caballos, Mike & Tina Camara, Dr. Glennda Estores-Canlas, Berck Cheng, Roehl Inocentes, Antonio & Mila Jalandoni, Jose Antonio Mapa, Mr. & Mrs. Romeo Mercado,Ria Nunez, Francisca Ona, Ricardo Pascua, Mr. Antonio Jose Periquet,Dr. Asuncion & Agripina Reloza, Santiago Santos, Sister Mary Josanne.

YOU'RE INVITED… to be a Cartwheel member!
Call 6337442 or check out our new website at its temporary address: http://cartwheelinc.tripod.com.