Unit 213 Valle Verde Terraces, Meralco Ave. cor. Gen.Segundo st., 1600 Pasig City, Philippines
Telefax: (0632) 633.7442. Email: cartwheelinc@pacific.net.ph

cartwheelinc@yahoo.com
NEWS

CARTWHEEL COLORS
The Newsletter of Cartwheel Foundation Inc.
NOVEMBER - DECEMBER 2001

NEWS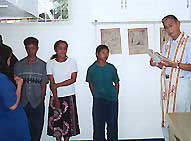 Fr. Raf blessing Cartwheel Creative Center, Malaybalay
Cartwheel Creative Center Malaybalay Blessed
___Cartwheel Creative Center Malaybalay on Lope Damasco St., Impalambong, Malaybalay City, Bukidnon was blessed on December 1 by Fr. Raf Borromeo, S.J.
___The Cartwheel Mindanao project officer is Rojean Edith Caharian, a graduate of Xavier University-Ateneo de Cagayan and former Jesuit volunteer. The Center also serves as a home to the Cartwheel scholars. If you wish to meet them, to be a Cartwheel volunteer, or simply to see Miarayon, call Rojean at 0919 3741796.

WELCOME TO CARTWHEEL!
Cartwheel Creative Center Manila
Suzanne Alvarez -- Executive Director
Lilet Centeno -- Administrative Assistant

Cartwheel Creative Center Malaybalay
Rojean Edith Caharian -- Project Officer

New Friends of CFI Malaybalay
Kristine B. Co., FedEx
Juliet U. Lisondra, PhilAm Life
Ma. Louizyle G. Cale, PhilAm Life
Maxi Galido, PhilAm Life


CARTWHEEL CREATIVE CENTER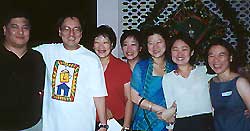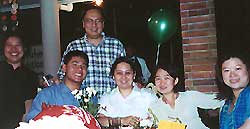 Friends & supporters at the Xmas Party 2001

Christmas Celebration!
___Come celebrate! It's Christmas time once again and we would like to invite everyone to celebrate First Friday Mass and Dinner with Cartwheel friends on Friday, December 7, at 6:00 p.m. This will be at #35 11th Street, New Manila, Q.C. (Fr. Kit's house).
___ Games and gypsy card reading will spice up the night! We would love to hear from you on or before Monday, December 3. Please contact Lilet Centeno at 6337442 or email us at cartwheelinc@pacific.net.ph.

Cartwheel Coffee Night
___Share that warm cup and unwind on Thursday nights from 9:00 onwards. Invite a friend and suggest a place in the Pasig area. Call 6337442 or text Suzanne Alvarez at 0917 8906142 to find out what coffee place we're checking out for the week


Cartwheel at Miriam College
___Fr. Kit Bautista, S.J., Gina Alfonso, and Lilet Centeno presented Cartwheel to the students of Miriam College. The response was overwhelming as 81 students signed up as volunteers for the PGH Cancer Kids Program.
___Visits to PGH are on Tuesday mornings while the children wait at Munting Paraiso of the Cancer Institute for their chemotherapy in the afternoon. Call 6337442 for a Christmas celebration with these children, or Suzanne Alvarez at 0917 8906142.
OUTREACH MANILA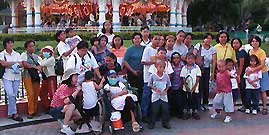 Cancer kids at Enchanted Kingdom


Cartwheel and Cancer Kids Go to Enchanted Kingdom.
___Thirty-two children and mothers, and about ten Cartwheel volunteers spent the day at the Enchanted Kingdom on November 24, 2001.
___ Thanks to CyndyTan-Jarabata, Cecile Tan and Jalu Go who ensured the success of this event, which was also made possible by James Auste of Cancer Warriors Foundation, Mr. Mamon, Pamela Garcia, Portia, Sherry Anne Asuten, Christian Sera, Donna Cunafranca, Dominos Pizza, Ms. Socorro Niro, Willy Singson, Tessie Tan - Perez, Roger & Richard Cuan, Willie Go, Alain Antonio, Carol Leang, Dr. Aiee Antonio and Dr. Ronnel Santos. NOTE: This project is currently on hold.


OUTREACH MINDANAO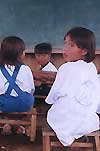 A student at Sitio Abel's makeshift structure

Christmas in a Can? Why not?
___Project Barya Mo, Kinabukasan Ko by Cecile Tan, Cartwheel Member, and Nelson Yuvilla and Mr. Henry Camungao of The Club Café and Premiere City Club are making this possible. Through your purchase of these cans worth Php 500.00 or Php 1,500.00 each, you give the children of Sitio Abel, Miarayon, Bukidnon a chance to make their Christmas wish come true--to have a decent pre-school building.
___The makeshift pre-school of Sitio Abel and its pupils with teachers Vic-Vic, Amy, and Neneth.
Donations can be also be made through our account CARTWHEEL FOUNDATION, INC., No. 3991-0019-12, BPI Ortigas-San Miguel, Pasig. Please send us the details of your deposit so that we could acknowledge your contribution. You may also call 6337442 for pick-up of your donation. You and your friends can make Christmas in a can your kind of Christmas.

Christmas Cake, Anyone?
___Through the efforts of Cartwheel friend Gina Fernandez, there will be a cake raffle on December 10, 2001.
___ Tickets are at Php 25.00 each. Proceeds will be used to buy books for the future Miarayon Community Library. Come and share your love of learning, er... of cakes(?), with Miarayon. Call 6337442 or Suzanne Alvarez at 0917 8906142 on or before December 8 for tickets.

Cartwheel Malaybalay Is Your Home.
___Your donations for Cartwheel house and office in Malaybalay will bring good cheer to our scholars this Christmas.
___ Here's a list of stuff you might want to share with the house and office which could be "your home" during your visits there: bible, mattress, bedding, tables & chairs, emergency lamps, kitchen utensils, cooking stove, air pot, cleaning materials, gardening tools, computer & printer, office supplies, etc.

Help St. Therese High School.
___St. Therese High School of Miarayon is raising funds for a color TV (to be run by solar panels) and a laboratory. It also welcomes laboratory equipment and other materials.
___ Please call Rojean Edith Caharian of CFI Malaybalay at 0919 3741796 or CFI Manila at 6337442 for more details.

THANKS TO OUR DONORS AND SPONSORS:

Tin-Tin Abu, Fr. Mon Bautista, S.J., Henry Camungao, Gina Fernandez, Gigi Go, Jalu Go, Gerald Javier & Blas Descallar, Philip Macahiling, Tess Quijano, Alvin Ramos, Raffy Reloza, Rustan Coffee Co., Nelson Yuvilla.